Spine Surgeon Los Angeles
In an ideal world, our bodies would be problem free for all our days. However, age, injury, and disease can all lead to medical concerns. Fortunately, modern medical techniques allow us to provide life-changing pain relief to our patients.
Everyone deserves a chance to live pain-free. With the help of cutting-edge non-surgical spine techniques and a unique approach to patient care, Dr. Yashar delivers on this belief.
Treatment and Care Tailored to Your Needs
When you come to Yashar Neurosurgery for spine surgery in Los Angeles, it is more than just a visit to another surgeon. Dr. Yashar's technical competence in spine, brain, and neuro-interventional procedures cements him at the top of his field in the Los Angeles area.
But your experience with us goes beyond technical prowess. We strive to provide the highest-quality care in an environment that is both comfortable and professional.
California center of excellence
for spine
DR. YASHAR'S
FEATURED SPECIALTIES
Minimally Invasive Spine Surgery
Achieve relief from spine conditions with a safer, less extensive version of spinal surgery. Find significant improvement of symptoms with a shorter recovery period.
Cervical and Lumbar Disc Surgery
Restore the health and strength of your spine with expertly-performed disc surgeries to provide symptom relief.
Anterior Cervical Discectomy
Remove a herniated disc through a specialized surgery. Achieve significant relief from symptoms, especially pain with a single procedure.
Dr. Yashar
specializes
in many operations, including:
Minimally Invasive Spine (Mis) Surgery
Cervical Artificial Disc Surgery
Lumbar Artificial Disc Surgery
Board Certified Neurosurgeon
Dr. Yashar has become a prominent Neurosurgeon in the Los Angeles, San Fernando, and Santa Clarita areas since completing his fellowship and residency in 2012. With his broad experience, interest, and accomplishments in Spine, Brain, and Neuro-Interventional procedures, Dr. Yashar is a highly-skilled and exceptional Neurosurgeon, focusing on all aspects within the field of Neurosurgery, along with a special emphasis on both Brain and minimally invasive Spine surgery.
You Are Central to Everything
Dr. Yashar believes in a "patience for patients" philosophy. This means you are actively listened to, not just heard. Your questions are thoroughly addressed, not just dealt with. There is no such thing as too many questions or concerns. After all, neurosurgery is a big step in your life, and one that can be intimidating if you are kept in the dark.
Your spine treatment plan is explained in an easy-to-understand way, without glossing over anything "not important enough" to discuss. The relationship between neurosurgeon and patient is just that: a relationship. Dr. Yashar encourages a constant dialogue and comprehensive consultation process with each and every patient.
surgery center Affiliations

The spine is an interconnected complex of bones, nerves, muscles, tendons, and ligaments that provide support to the body as well as our ability to stand straight up. The vertebrae are the bony building blocks of the spine which are supported by the discs in between them.
Why Might You Need Spine Surgery?
The vertebrae are the bony building blocks of the spine supported by the discs in between them. Unfortunately, as part of the aging process and other conditions, these components can become damaged. When this happens, you may experience:
Pain
Neurological symptoms
Loss of mobility
And more
But you need not live with these symptoms. Dr. Yashar understands how spinal concerns can significantly impact your quality of life. That is why he has trained in and treats a variety of spine conditions. As a top spine specialist, he has dedicated himself to treating a variety of conditions in countless patients so far.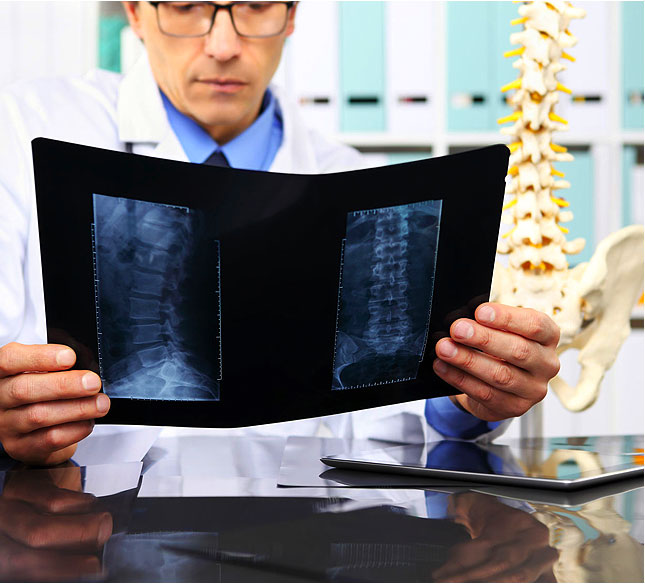 A patient-centric approach that focuses on your unique needs
Fully-tailored surgeries deliver optimal results
Flexible payment options so you can get the help you need when you need it
Scheduling options that work around your life
Convenience at every step for a comfortable experience
Turnover is not in our Vocabulary!
We talk about
our patient or staff,
we want to build a long-
lasting relationship
PARHAM YASHAR, MD FACS


CONSULTATION
Our consultation process is a vital component in the
treatment process. Dr. Yashar guides you through the
entire process. As a board-certified spine surgeon and former student of cybernetics and education, Dr. Yashar's practice wholly encompasses experience in both minimally invasive spine surgery and non-surgical. He works closely with each patient, fully devoting attention and knowledge to
every case, both large and small.
I REALIZED THAT DR. YASHAR GENUINELY CARES TO CURE HIS PATIENT, WHICH MAKES HIM AN EXCEPTIONAL DOCTOR IN THE CITY.